Resolve If Your iTunes Won't Detect iPhone Issues
If you are facing this iTunes Won't Detect iPhone issue. Be relaxed about it, you are not the only one with this error. A lot of iPhone users have reported lately about this problem. Although it is not something that cant be fixed. Simple following these steps will help you to resolve the issue.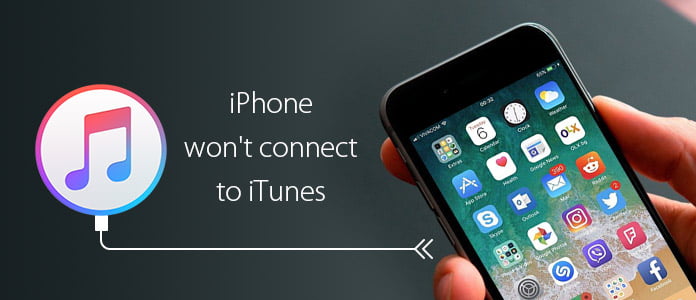 Basically, there could be a number of reasons which may cause this issue. Which will make your iTunes freeze or not responding while you try to connect iTunes to your iPhone or Mac. You may also encounter an iTunes not connected iPhones issue.
So, here I have listed some of the simple easy to follow solutions and reasons along with that.  Keep on reading to know the trick you can try to resolve the issue.
Reasons For iTunes Connection Issues
Before directly getting into the solution part, it would be good to know where the solution should apply. In simple terms, a better understanding of the problem will help you resolve the issue quickly.
⇒ See if the version of iTunes you are using is updated or not. An outdated version of iTunes may cause a compatibility issue.
⇒ If the system you are using is not up to date then iTunes won't detect iPhone.
⇒ Check that if the device is power on mood. Also if your device is asking for trusted permission, Click on the option and allow permission.
⇒ While you are trying to connect to iTunes and experiencing a problem. Just remove all the USB cables except the USB connected to your iPhone. And check whether the ports are functioning or not.
⇒ If the device you are using is at fault then also you will face this issue. Check the device or you can use different Computers to connect to iTunes.
Update iTunes to the Latest Version
Please make sure that iTunes software installed on both devices is updated. Because if the software is not updated then it will create a problem connecting to iTunes. However, you will get notified when an update is available. In case you miss out on an update you can still do that by going to the update tools in the software.
Once you updated the software on both devices now reinstall the software. After the installation process is done then open iTunes and try to establish the connection you will not face iTunes won't Detect iPhone issues.
Update the Device Driver
If the previously mentioned solution did not work out for you. Then you can try this process. Sometimes in order to make a glitch-free connection, it's important to update the device driver. If the driver in your iPhone is not up to date the considers updating the software it will resolve the iTunes won't Detect iPhone.
If you in case you don't see the apple driver on your PC then it means your iPhone is not installed on the PC. Install the phone and then try connecting.
Reset Back to Default
If still, you are not able to make the connection with iTunes. As a last resource, you have the option to Factory reset your iPhone. This is the sure trick method if none of the above-mentioned solutions didn't work out for you. It will reset all the settings and remove all the glitches if any.
To do this you need to go to your phones in general settings. And check for the factory setting option and enter the option. If you are finding it difficult to complete the process. You can connect with our tech support and get it done by our expert professionals.
Connect With Us
If you are still facing iTunes won't Detect iPhone issues, You can easily connect with our technical executives for effective and trustworthy solutions. Call our iTunes Customer Service Number +1-800-542-2744 for a quick solution.
How do I get my iPhone to show up in iTunes?
Close 
it 
if 
iTunes 
opens. 
Click 
and 
hold 
the 
Start 
button 
(or 
right-click) 
then 
select 
Device 
Manager. 
Set 
up 
the 
Portable 
Devices 
section 
and 
expand 
it. 
Research
your 
connected 
device 
(e.g. 
Apple 
iPhone),
click 
on 
the 
device 
name 
to 
the 
right 
and 
select 
the 
driver 
Update.
Why iTunes Cannot detect my iPhone?
There 
are 
some 
grounds 
for 
not 
recognising 
an 
iPhoto 
by 
iTunes. 
A 
physical 
problem 
may 
occur 
like 
a
defective 
USB 
or 
USB 
port 
on 
the 
computer. 
Debris 
may 
block 
the 
port 
for 
the 
iPhone 
or 
a 
software
How do I reboot my iPhone 12?
The 
iPhone 
X, 
XS, 
iPhones, 
XR 
and 
iPhones 
11 
or 
12 
will 
be 
restarted 
forcibly. 
Press 
the 
volume 
up
button 
and 
release 
it 
quickly. 
Press 
and 
release
the 
volume 
down 
button 
quickly. 
Release 
the 
button
when 
the 
Apple 
logo 
appears.